I was thinking about the
New Riders of the Purple Sage
because when I was on
the houseboat trip
on Lake Powell a couple of months ago, Scotty, who runs the maintenance shop for Fann Contracting, asked who did a specific song. It was one of those trivia questions and I knew it. "I can't believe it," he said. "Nobody knows that was by the New Riders of the Purple Sage." Now I can't remember the song in question.
Maybe it was Panama Red.
(Check out the new web page Linda designed for Fann)
So of course I was happy to send Scotty a link to my New Riders radio station on Pandora. Not only do they have the music, but they have information on the bands. There was a long and well written piece on the New Riders, which was started by Jerry Garcia and Mickey Hart and some other Grateful Dead members and associated musicians, to give them an outlet for their more country and western tendencies. Actually, it was a hot band in the Bay Area. I used to put together mixes of western and coastal rock and they were always included, along with countrified numbers by
Boz Scaggs
and other rockers with country roots.
Right now, on Tom Waits, I'm listening to
J.J. Cale
singing "Super Blue," which makes Pandora's (juke)box glow pink. Odd how colors interact that way. So ... essentially it just makes playlists based on the song or artist chosen. For example, when it's playing "Venus in Furs," by
the Velvet Underground,
I can ask why it chose the song and it reports: "Based on what you've told us so far, we're playing this track because it features basic rock song structures, mild rhythmic syncopation, extensive vamping, mixed electric instrumentation and minor key tonality."
Extensive vamping?
It's essentially repeating structures, as opposed to jams, which are more free form.
Cool. So that's why this music doesn't harsh my mellow. On the next one, "Danny Says," by Tom Waits, it reports: ... it features acoustic rock instrumentation, major key tonality, electric rhythm guitars, a gravelly male vocalist and prominent organ. I can identify with that. It doesn't always tell the truth. For example, when
Cat Power
was singing, "I Can't Get No Satisfaction," it reported that one of the criteria was male vocalist, which Cat is not.
Each track is rated so if I don't like something I can eliminate it, as I just eliminated "The Pogues," and moved on to "Jelly Roll Baker" by
Otis Spann.
I am assuming that it adjusts according to what I like and don't like, but that might be according it too much nurturing quality.
.............................................
Mike just came in to report that he has put another thousand lights in the oak trees beside the house, which already had more than a thousand in them. There's another thousand to string. It's all controlled by a remote, and the scene is visible from down below the house on East Gurley. It's cool to have a gardener. He's been working on the little house we have in Granite Dells, and the place is transforming, with a patio made from granite slabs, and ... well, I will have to take some pictures. Unfortunately my teenager has my camera, and has lost the charger, so I am left with my iPhone as the only camera.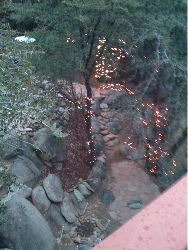 The little house in the Dells has been completely gone through inside, with maple floors and handmade cherry cabinets, and wireless internet. There is no television there. I don't think there will be, unless it becomes a short term rental. I doubt that. I am planning to use it as a work space, and as a guest house. When Scotty (the New Riders fan) married Renata, she had family come from Germany, and they used it for a week or so. We'll have it filled up for sure the week after Christmas, because we're hosting a gathering of the tribe. We're expecting Scott and the grandsons to come over from the central valley.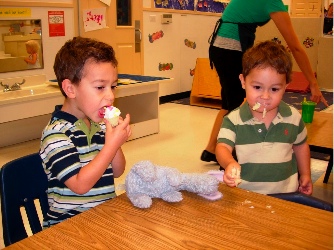 Meanwhile, I am discovering that my iPhone can be used as a recording studio. There's
a four track recorder
available for download, and I have been looking at a
"Blue Microphone"
which plugs into it. That should make it an amazing tool for recording anywhere. When I was 19 years old I was using one inch tape on floor standing machines and splicing them with a razor blade and tape. Now all this little iPhone needs is for ground towers to be replaced by satellite, so that there's not all the dead zones.
Prescott
was a live zone on Friday night, with the
Acker Music Festival
closing down the main streets around the courthouse square for foot traffic, while every business had local musicians, from choral groups to singer songwriters to a children's angel band. I know some of those kids and they aren't actually angels. They do contain angels I suppose. They contain them too well most of the time. They just can't get out.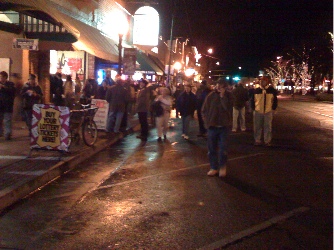 (Not bad pictures for an iPhone.)
Linda and I had brunch at
The Raven
today. There was a girl at a nearby table who had a sticker on her computer which made me laugh: "God used to be my co-pilot but we crashed in the mountains and I had to eat him." It's from
Northernsun.com.
They have an interesting store.
Okay, I've got to boogie. I can't believe the gold mine I hit by typing in
Tom Waits.
I'm pulling in all these killer cuts. Right now it's
T-Bone Burnett,
"There Would be Hell to Pay."
Check out Pandora.com. It's phenomenal. I wish I could buy stock in it, but it's not a public company. It's private investors who use something called the
Music Genome Project
to analyze and relate music to make the playlists.
................................................
And now for something completely different, check out Glenn Tilbrook's
"Genitalia of a Fool"