Charley's Birds
I've known
Charley Stough
since I was 22, and worked on his weekly newspaper as a writer and photographer. He served as a mentor as well as a good friend, but after he moved to Dayton, Ohio, we lost touch for many years. He reconnected through the blog, and, as it turns out, has become an artist. Below the fold is "Frigatebird." He writes,
"... if it had any other name I wouldn't need to paint him."
(From his letter):
Get some watercolors and hang with artist friends. Arts will outweigh all the newspaper work I ever did. I should have taken the hint from watching artists doing a quarter of the Bengals game between paint strokes. They don't know deadlines except maybe if they discover they have glued a flap of the weather map on upside-down and it's 6 minutes to engravers' lunch break. They have closets full of comic books. Me, I had a doofus Canadian department head who stopped pages until he understood expressions like "Monday-morning quarterback." Reporters can whine and blame the copy desk. Artists can say, "You don't like it? Have your mama try." They have cars, drugs, women, booze. Well OK, maybe writers have those too. But artists have 88 colors of chalk.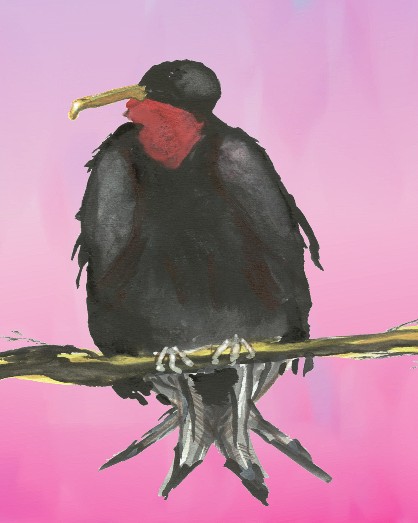 Posted: Wed - September 19, 2007 at 06:27 PM